At some point we should start trying to plan raids to get the better cards for the faction members. I hear that the best raid card is Azure Reaper in Enclave.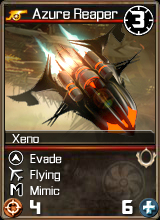 But Hellion could be could too...
Those are relatively easier Raids to take on. Once I'm done getting my Reputation up in Honored Credo so I can get the Support Carrier I'd be game to doing some raids soon.
Yea I'm down to go for both of those as soon as I get Sundering Ogre. I'm on mission 115 now so once I can get to a mission that I can grind reputation I'll do that then I'll be good to go.



Posts

: 13


Join date

: 2011-12-29


Age

: 29



I'm currently 240 reputation points away from the support carrier, so no worries on my end. I'm just trying to grind that out for now.
Are we ready to do a Faction Raid yet? At least, making the raid private so we can get max honor, before allowing others to join the raid?
I am gonna grind rep a bit to get carrier, but I'd be up for another of todays raid after the reset timer is gone



Posts

: 25


Join date

: 2011-12-28



Another Enclave Flagship it is. It'll reset Saturday sometime. You up for it this weekend, or wanna wait until Monday?
Similar topics
---
Permissions in this forum:
You
cannot
reply to topics in this forum